Giorgio de Chirico was one of the most influential artists of the Twentieth Century. His Metaphysical art was an inspiration to many artists, including those working with Magic Realism, Surrealism and Fantastic Realism.
While at the Academy of Fine Arts in Munich, De Chirico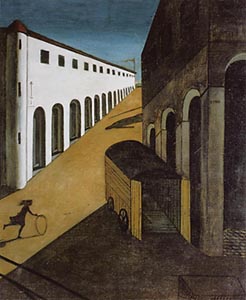 studied and admired the art of Arnold Boecklin and Max Klinger. But he was even more influenced by the philosophers Nietzsche and Arthur Schopenhauer. After moving to Italy in 1909, he began painting cityscapes which included enigmatic elements and personal symbols. This first phase of his paintings is called the Piazza d'Italia series. In 1914, he began another series of paintings in which ambiguous and diverse iconography was introduced. Included in these paintings were mannequin-like figures, boxes, maps, architectural fragments and a sundry of other objects. Juxtapositions and groupings of these various articles, together with distortions in perspective helped to give this art its captivating allure.
The art which De Chirico produced between 1909 and 1919 is referred to as his Metaphysical Period. It unfolded in two phases, the earliest lasting from 1910 to 1914 and including many of his so-called Piazza works. In this period the compositions are metaphorical and classically influenced, informed by Boecklin and Max Klinger. The second phase lasted from 1915 to 1919 and covered mostly interiors which incorporated a plethora of objects including architectural drafting instruments, mannequins and furniture. The first phase is related to Magic Realism, and the second is more closely associated with Surrealism.
In 1917 he met Carlo Carra and together with Filippo de Pisis, Giorgio Morandi and Mario Sironi the form the Scuolo Metafisica. However, in 1919, on seeing works by Titian, De Chirico had a revelation and began working in the style of the Old Masters. From this time until his death, his work would concern itself with both the Metaphysical style and the Return to Order, a revival of Classicism.
For De Chirico the object was a theatrical prop. There is no doubt that the Metaphysical paintings had a significant role in the emergence of Magic Realism. It is likely that Franz Roh also had De Chirico in mind when he spoke about Magic Realism and a "renewed delight in real objects", and added that this new art seemed to offer "a calm admiration of the magic of being; a question of representing before our eyes, in an intuitive way, the fact, the interior figure, of the exterior world". Compare Roh's comments to De Chirico's statement "To have original, extraordinary and perhaps even immortal ideas, one has to isolate oneself from the world for a few moments so completely that the most commonplace happenings appears to be new and unfamiliar".
| | | | | | | |
| --- | --- | --- | --- | --- | --- | --- |
| | | | | | | |
| | | The Enigma of a Day I (1914) | | The Child's Brain (1914) | | Melancholy (1912) |
The Song of Love (1914)

The Disquieting Muse
(1917-18)

The Dream of Tobias (1917)
| | | | | | | |
| --- | --- | --- | --- | --- | --- | --- |
| | | | | | | |
| | The Prophet (1916) | | The King's Evil Genius (1914-15) | | The Prodigal Son (1922) | |
The Apparition of the Ghost (1917-18)

Ulysses (1922)

The Vexations of the Thinker (1937)
| | | | | |
| --- | --- | --- | --- | --- |
| | | | | |
| | | Piazza d'Italia (1913) | | Meditation at Dusk (1943) |
| | | | | |
| --- | --- | --- | --- | --- |
| | | | | |
| | Ariadne (1913) | | | St. George Killing the Dragon (1940) |