Boris Koller is an Austrian composer and painter. In the early 1990's he visited Sweden and Norway, and he was drawn to the natural beauty of the region. Many of his paintings have been inspired by the rugged terrain of Troms county in northern Norway. Mr. Koller also made numerous excursions in this area during his extended stay on the remote island of Senja in 2003-2004. The majestic Norwegian landscapes are captured in his paintings by his rendering of meticulous detail and atmospheric effects.
The history of Landscape art developed along two lines. One of the first important artists to specialize in Landscape art was Claude Lorrain (c1604-1682). His works utilized the Classical formulae of the idealized landscape and were inspirational to English artists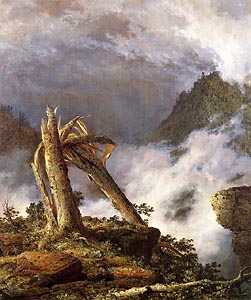 John Constable (1776-1837) and J.M.W. Turner (1775-1851). They in turn helped bring attention to Landscapes in the first decades of the 19th Century and influenced many European artists, including Camille Corot (1796-1875) and other Barbizon artists in France. The second line also began in the 17th Century, as a landscape art tradition evolved in the Netherlands, with important work being done by Jacob van Ruisdael (c.1628-1682) and his pupil Meindert Hobbema (1638-1709) and by Aelbert Cuyp (1620-1691). The Dutch traditions helped to establish Landscape art in Denmark, which in turn had heavy influences on German Romanticism.
In the idealized landscape artists included classical elements such as a temple ruins, cemetery, or a castle. This was primarily to satisfy the hierarchy of genres, in order for paintings to be considered serious art. But with the spread of Romanticism and the idea that nature itself was a divine manifestation, the pure Landscape began to appear. This was particularly true in America, where the Hudson River School rose to prominence and soon became a significant art movement. It roots stem from both the English traditions and from German Romanticism. Notable artists included Thomas Cole (1801-1848), Frederic Edwin Church (1826-1900) and Albert Bierstadt (1830-1902).
A large number artists throughout the 19th Century dedicated themselves to Nordic landscapes, the most notable being the two Norwegians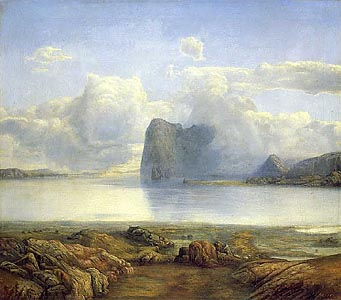 Johan Christian Dahl (1778-1857) and Hans Fredrik Gude (1925-1903). Both were mainly domiciled in Germany. Dahl is often called the father of Norwegian landscape painting, and was a close friend of Caspar David Friedrich . Two of Dahl's most accomplished students were Thomas Fearnley and Peder Balke. Gude was both student and professor at the Düsseldorf Academy of Art, and then later a professor at Baden School of Art . His emphasis was on naturalism and en plein air painting. Gude had a number of important students including Herman August Cappelen, Lars Hertervig, Amaldus Nielson, Fritz Thaulou and Kitty Lange Kielland. Mr. Koller's work evokes the spirit of Nordic landscape art, as displayed in the works of many of these artists. His paintings capture the feeling of isolation and natural wonder of the Artic North . Click here to visit the 19th Century Nordic Landscape Gallery.
Another aspect of Boris Koller's art that emerges in his figurative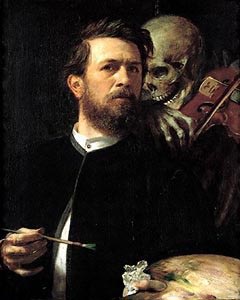 works is the theme of mortality. Notably Memento Mori (Remember you will die) establishes the point that nature is more powerful than humanity and will outlast all of us. The Memento Mori theme is related to the numerous Vanitas works seen over hundreds of years, yet this message is never more clear. Equally poignant, Mains Sales (Dirty Hands) has been inspired by Jean-Paul Sartre's play about political intrigue and treachery. The theme of mortality resonates often in Mr. Koller's works, somewhat reminiscent of the art of Caspar David Friedrich.Yet there is even closer similarity to some of the works of Arnold Böcklin, such as his iconic painting Island of the Dead (in several versions). Böcklin had been trained as a landscape painter at the Dusseldorf Academy. He is known for his mythological works, which connect him with the Symbolist movement. In many of Böcklin's paintings he introduced a serene, even melancholic mood. Later, around 1800, he began incorporating the theme of death. Like Böcklin, Mr. Koller often muses, with serene fascination, about the realm of the departed.
Boris Koller's paintings reflect on vistas of alpen Austria and coastal Norway, with an empathy gained during intimate studies in these regions. He has walked in the footsteps of the many Norwegians painters who have proceeded him. We invite you to enjoy some of his paintings in the Monograffi Fine Art Galleries.
Boris Koller's Web Site: http://www.boriskoller.com/